MINIATURE DACHSHUND CLUB OPEN SHOW
21st June 2015
MINIATURE WIREHAIRED DACHSHUNDS
JUDGE : MRS LINDA BROWN (GARBOSA)
CRITIQUE BELOW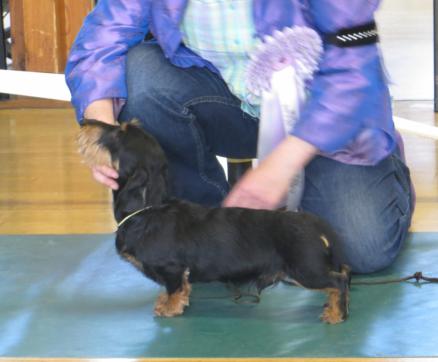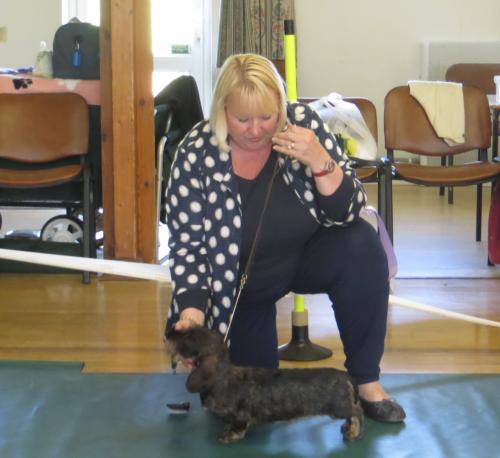 Best of Breed Best Puppy
| | | | |
| --- | --- | --- | --- |
| BEST OF BREED | BEST VETERAN | RESERVE BEST OF BREED | BEST PUPPY |
| Mr N & Mrs S Shone | Mr & Mrs Hayward | Mrs C Morris | Mrs C Morris |
| STRAX GOGOL (IMP SWD) | CH FOXEARTH FOTO COPY | BANBURG BLACK OPAL AT STARGANG | PENNYWAVE TOP TOTTI |
| | |
| --- | --- |
| BEST DOG | Shone's Strax Gogol (Imp Swd) |
| RESERVE BEST DOG | Hayward's Foxearth Fiddler on the Roof |
| BEST PUPPY DOG | Hopper's Stargang Jack O'Diamonds at Brnyfaw |
| BEST BITCH | Morris, Banburg Black Opal at Stargang |
| RESERVE BEST BITCH | Garrity's Stargang Apple Crumble at Macushia |
| BEST PUPPY BITCH | Morris's Pennywave Top Totti |
| | |
| Veteran Dog or Bitch (1 Entry) | Puppy Bitch (7 Entries) |
| 1.Hayward's Ch Foxearth Foto Copy | 1. Morris's Pennywave Top Totti |
| 2.Ward-Blower's Willowmist Little Red Rooster | 2. Selley's Ubu Belarus Nahia |
| | 3. Hopper's Arbennik Sootalina at Brnyfaw |
| Puppy Dog (2 Entries) | 4. Salisbury's Barratini Hot Chick at Brocklewood |
| 1.Hopper's Stargang Jack O'Diamonds at Brnyfaw | |
| | Junior Bitch (3 Entries) |
| | 1. Price's Samlane Belleza |
| Junior Dog (3 Entries) | 2. Shone's Hanishan Belle Paque |
| 1. Shone's Strax Gogol (Imp Swd) | |
| 2. Lancaster's Pellismer Ottdeal | Novice Bitch (2 Entries) |
| | 1. Selley's Ubu Belarus Nahia |
| Novice Dog | |
| No Entries | Post Graduate Bitch (4 Entries) |
| | 1. Garrity's Stargang Apple Crumble at Macushia |
| Post Graduate Dog (2 Entries) | 2. Morris. Stargang Quintina at Pennywave |
| 1. Ward-Blower's Whitewebbs Painted Black by Willowmist | 3. Shone's Hanishan Shogi |
| 2. Lancaster's Pellismer Ottdeal | 4.Ward-Blower's Willowmist Brown Sugar |
| | |
| Open Dog (3 Entries) | Open Bitch (8 Entries) |
| 1. Hayward's Foxearth Fiddler on the Roof | 1. Morris, Banburg Black Opal at Stargang |
| 2. Grant's, Barratini Ted Astaire at Granhoward | 2. Hopper's Arbennik Atlantek Reach at Brynfaw |
| 3. Ward-Blower's Whitewebbs Painted Black by Willowmist | 3. Lancaster's Pellismer Deals a Winner |
| | 4. Hayward's Foxearth Fatma Salkan |
| | 2. Shone's Kalhoun Spring Sunshine |
Thank you to Dawn & her committee for looking after me so well, a friendly well run show in a lovely setting also the exhibitors for your support. Quite an interesting entry, type varied enormously, all exhibits were well covered (some too much), 1 or 2 untidy mouths & quite a few with incorrect front construction, forward placed shoulders create lack of forechest & short return on the upper arm restricts the reach to front movement. Please bear this in mind when planning your next show ring puppy.
V (2) 1 Hayward's Foxearth Foto Copy, youthful 11 year old, she has retained her elegant outline, very lively & she used her ears which enhanced her lovely expression, she showed & moved happily & well. BV; 2 Ward-Blower's Willowmist Little Red Rooster, 8 months younger than above also enjoying his day out, strode around the ring very happily, lovely temperament. PD (2,1a) 1 Hopper's Stargang Jack O'Diamonds at Brynfaw, nicely proportioned darker brindle, head balanced with well set ears & dark eyes, he has a reasonable length of ribbing, rounded & well covered body, moves with verve, his topline rises to rear when standing, lovely temperament. JD (3,1) 1 Shone's Strax Gogol, quality b/t, for me he fits our amended breed standard to a 'T', his profile outline is balanced standing & on the move, height to length ratio just about right, he is compact but also stands over a lot of ground, forechest is prominent, shoulder angles OK with the desired amount of return to his upper arm, firm topline covering a reasonable length of ribbing, well muscled rear not too over angulated with short strong hocks, movement positive fore & aft, very free profile moving around the ring, jacket hoarse & well presented, only dislike to this boy is he isn't mine. BOB & later BIS; 2 Lancaster's Pellismer Ottdeal, nicely conditioned & presented, he has a pleasing head & length of neck, well placed ears & dark eyes, would prefer more length to his ribbing, moved happily but tended to stand & move close in front. PGD (2) 1 Ward-Blower's Whitewebbs Painted Black at Willowmist, compact type, shorter in profile than second & has more ribbing, I liked his head & dark expressive eyes, topline rises to rear on the move, attentive show boy; 2 Lancaster's Pellismer Ottdeal. OD (3) 1 Hayward's Foxearth Fiddler On The Roof, quality well-presented red, loved his head, eye & strength of jaw, he has a nice length of neck & firm topline, forechest prominent, his ribs are of good length but for me his keel stops to short, he moved parallel both ways but didn't open up today on profile movement. RBD; 2 Grant's Barratini Ted Astaire at Granhoward, happy dog who is narrower through the front than above, topline rises to rear when stacked but levels on move, strong hocks positive in rear movement, but he tends to toe in coming towards, he has a lovely head, being well balanced & dark eyes; 3 W Whitewebbs Painted Black at W.
PB (7,3) 1 Morris' Pennywave Top Totti, confident & outgoing, she has an excellent forechest, good ground clearance & ribs go well back, firm topline but tailset a touch high, dark eyes, tucked in elbows, short hocks, could be a good prospect on maturity. BP; 2 Selley's Ubu Belarus Nahla, loved this puppy, feminine outlook, height to length ratio excellent, prominent forechest & length of keel, firm topline over a good length of ribbing, pity more the class moved on she became uncomfortable & unsettled. Please persevere with her, she will be worth the wait; 3 Hopper's Arbennik Sootalina at Brynfaw. JB (3,1) 1 Price's Samlane Belleza, much to like with this feminine brindle, enough forechest & tucked in elbows, she has depth to ribbing & is in firm muscular condition, she strode out freely around the ring with bags of confidence; 2 Shone's Hanishan Belle Paque, very smart outline, liked her proportions & level topline, better return of upper arm than winner but much shorter in ribbing, she was unsettled inside the hall & not moving as well as winner. NB (2,1) 1 Selley's Ubu Belarus Nahla. PGB (4) 1 Garrity's Stargang Apple Crumble at Macushia, well proportioned & balanced with a really good length & depth of ribbing, prominent forechest with good follow through to keel which was also a good length, pretty head & dark oval eyes, true in front movement, touch close moving behind, nice girl. RBB; 2 Morris' Stargang Quintina at Pennywave, another feminine bitch with equally lovely head, eyes & earset, also confident & outgoing, shorter in rib & a topline rising to rear put this nice girl in second place; 3 Shone's Hanishan Shogi. OB (8,1) 1 Morris' Banburg Black Opal at Stargang, compact, balanced body proportions, prominent forechest, top & underline good, lengthy ribbing & keel, pretty head & dark expressive eyes which could be smaller, strong quality bone & tight feet, I liked her a lot. BB. For BOB I preferred the hoarser jacket & the touch of elegance the dog had to offer; 2 Hopper's Arbennik Atlantek Reach at Brynfaw, longer in profile & lower to ground than above, also shorter in rib, she has a pretty head & expression, tight feet & well presented jacket; 3 Lancaster's Pellismer Deals A Winner.